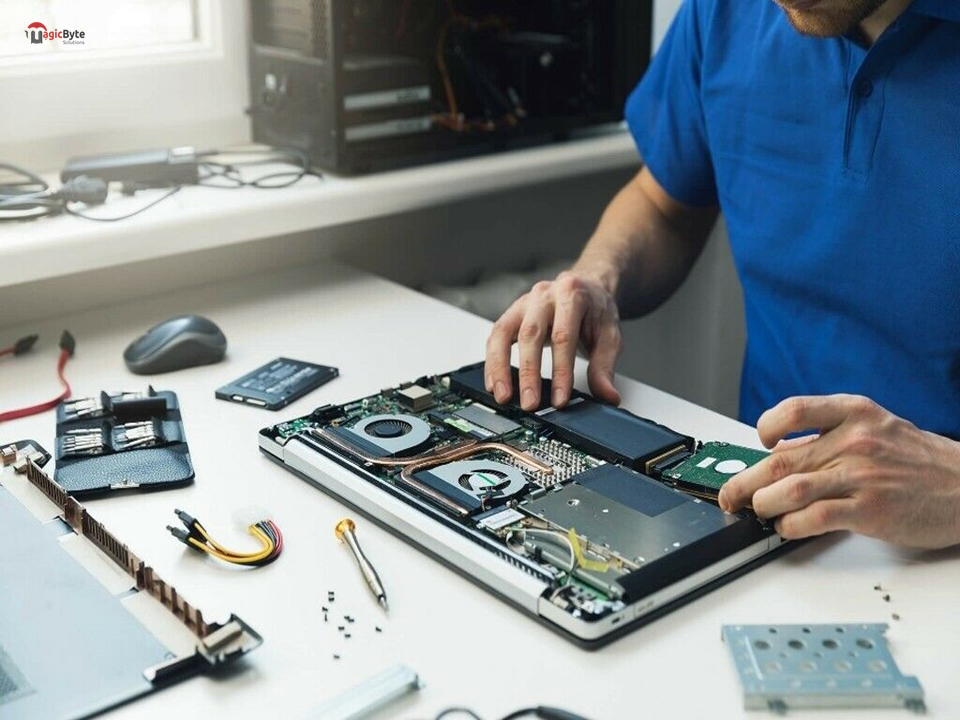 Laptop Repair
Don't Panic And Watch Out For Laptop Emergencies!
You might not be too obsessed with your laptop, just the way you are with your smartphone, but it is still a pretty crucial part of your life. Right? Significantly, when everything is lifted online, and we all are working and taking classes remotely. At this point in time, no one can ever take even a slight risk with their laptop. Now, we are so dependent on them that even a teething problem can disrupt our work schedule. These trying times call for special care of everything. If you inadvertently run into a laptop emergency, then your reaction will be equally justifiable. If your response is 'Aghh, not now or you freeze and freak out, then also it is completely fine. But continuously panicking is not the way out; the ultimate solution is fixing these common Laptop Emergencies. Watch out, no matter whether you witness a broken screen, a virus or accidentally delete important files. Every problem has a solution, so does laptop emergencies as there are quick-fix remedies for laptop emergencies. If your laptop screen gets cracked or broken, you can look out for technicians or computer support service providers that offer laptop repair in Sydney. If it is irreparable, then you can go for laptop screen repair replacement in Sydney.
Spilled Liquid On Laptop: This scenario is common, it can happen with everyone. You are drinking something while working and all of a sudden oops! There is hot coffee or soft drink on your laptop. Instead of blaming yourself and being hard on yourself, what you need to do is, first and foremost make a note of the issue. Since liquid damages electronics as there are components in it such as salts and minerals that conduct electricity. If you have spilled just the water, then don't panic your laptop is safe. But, if you have spilled liquids that contain salt and minerals at the time when your laptop is turned on, then the free-flowing electricity conduction can cause the circuits to be short. So, first and foremost, the moment you drop liquid on laptop turn off your computer as fast as possible. Then unplug it and remove the battery. The quick you get your laptop in a powerless state, the better it will be. Do it fast otherwise, you will have to pay exorbitant money on laptop screen replacement in Sydney.
How To Fix It: Once the laptop is turned off, remove all cables, components, media cards, and swappable drive, and then subsequently turn it upside-down. Then, turn the laptop towards the spill (i.e. if you have spilled something on the left side of your keyword then lay it on its left side. With a lint-free cloth, you can mop up any liquid on the outside of the laptop.
Cracked/Broken Laptop Screen: Uninvited accidents call out dropping of laptop on the floor, or when you unintentionally sit on them or in any way put excessive pressure on the fragile screen. No matter whether an accident takes place with your own hands or by someone else. Laptops are prone to accident, so let's focus on how to deal with such a situation. Your plan of action should be what to do when this situation rules your life. First of all, you have to make sure that other than your laptop's screen something more essential has not been damaged. If it's only visually damaged or cracked, you can keep using them. If the situation worsens, then you have no choice other than seeking the help of professional laptop repair in Sydney. And if there is no visual damage spotted, but the screen if all of a sudden acting weird, then you can try plugging an external monitor in your laptop. For this, you will need an output port or an external monitor and correct cable as well. I know all of these hi-diagnostic tools are not available at home, so anyhow you will have to call specialists of laptop repair in Sydney. You can also purchase all these things, but it will cost you hefty when it is compared to laptop screen repair cost in Sydney.
Also, some laptops have an external display mode that needs to be activated, usually through Function keys. If your laptop's graphic looks fine on the external display, then there is a simple screen issue and nothing serious to worry about.

How to Fix It: If your screen has a hairline crack along the edge, then there is no need to fix it right away. In this case, you can continue to use your laptop as usual, though you have to take extra precaution with the broken screen. Avoid mobbing it as it can put additional pressure on the screen, which can cause a much bigger issue. If you want to fix your screen instantaneously, then you have two options either to get it repaired from a third-party laptop repair service provider in Sydney or adopt the do-it-yourself approach. If you have no expertise with laptops, then you should avoid the other option as you can ruin the situation altogether. Instead of making things worse for yourself, select the cost-effective services of Ask the Technician laptop repair in Sydney.
Deleted Important Files: There is always two types of vital files- the once which are close to your heart and others which are essential to your laptop, such as system files. If you haven't caused the damage even then, it can be done by system crashes, malware and overenthusiastic antivirus programs. It's OK if you accidentally hit delete on an important document. Don't Panic! First of all, see if you can open up Windows Explorer and type the file name into the upper right corner. It is quite possible you haven't deleted the file, you have just moved it in a different folder unintentionally. Open your Recycle Bin, if you are not able to find in a search bar. Look for most recently deleted files. If this doesn't work, then you can either seek the help of data recovery tool or of verified data recovery experts.
Stuck with a Virus: Computer viruses can enter your system from anywhere and at any time. Maybe unintentionally you yourself let them in by downloading a bogus and infected website, or it can even enter when you click on a malicious pop-up ad. It can create havoc in your system, and sometimes it also creates a hindrance in the optimum performance of a PC. You might have heard of idioms, precaution is far better than cure and it is always better to be safe than sorry. If you feel something is shadowing over your Laptop, then disconnect it from the Internet. As viruses love the Internet and the last thing you would ever want in your life would be some sort of killer update that gives a kick start to the malevolent virus program.
How to Fix It: First thing first, restart your PC in Safe Mode. For boot into Safe Mode, restart your computer and press the F8 key repetitively. Don't stopover until you see the Advanced Boot Options menu. Afterwards, choose the arrow keys to select Safe Mode with Networking and then press enter on the keyboard. And once you are in Safe Mode, then use antivirus software to run deep scans. Optimistically, the antivirus software will be able to root and extract out the virus and is able to handle the situation on time. But, if the antivirus software stops functioning or it disappears or crash then it is quite possible that perilous virus has destroyed it. In this condition, you need to reinstall Windows and should restore your files and settings from the backup. If you don't have a backup, then you can't rectify the situation.
Nothing is achieved so easily; you have to put efforts to make it right. If you are short on time and lack adequate expertise, then book an appointment with Ask the Technician for availing best of laptop repair services in Sydney. Welcome addition provided by Ask the Technician is they don't levy any charges if there is no fix. You can count on us for any type of PC/Laptop repair support in Sydney and that too at any time of the day and night.